If you are a fan of classic comedy television, you probably know this "I love Lucy" skit: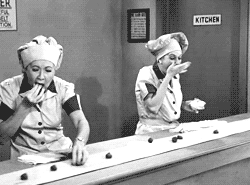 In this situation, Lucy and Ethel have no problem with the slow trickle of chocolates, but the belt speeds up and the influx of Chocolates is just too great for the ladies, despite their creative efforts!
As an IT professional, we can all relate to this overwhelming feeling!
As the number of devices continues to grow, with 34 billion predicted by 2020, we need visibility into them on our private networks and make allow/deny decisions instantly and automatically based on our requirements.
Wouldn't it be nice if all unauthorized devices on your network were just chocolates – not something that can cause a wake of devastation?
How do you control the overwhelming number of managed and/or unmanaged devices on your network? 
ForeScout CounterACT® appliances help customers everyday by identifying devices on the network and also providing granular access control. The ability to collect relevant context and automate a variety of actions gives customers significant flexibility to control their environment.
The first action most customers employ is to alert the user and provide them with instructions on how to remediate.  Think of the mandatory software installs that you don't want to automate.  It is also very common to see customers segment questionable devices to guest networks or quarantined VLAN until the devices are brought into compliance. Other actions may include restarting agents or forcing updates to automatically adjust the device – such as an AV signature update. It is also common to see ForeScout inform other 3rd party tools such as ITAM or SIEM platforms.
All of these actions are possible without agents!
Interested in seeing how ForeScout can help control your organization? See what Miercom has said about ForeScout in their white paper.  
Prefer to talk with Brite and learn what ForeScout can do for you?  Contact Us.